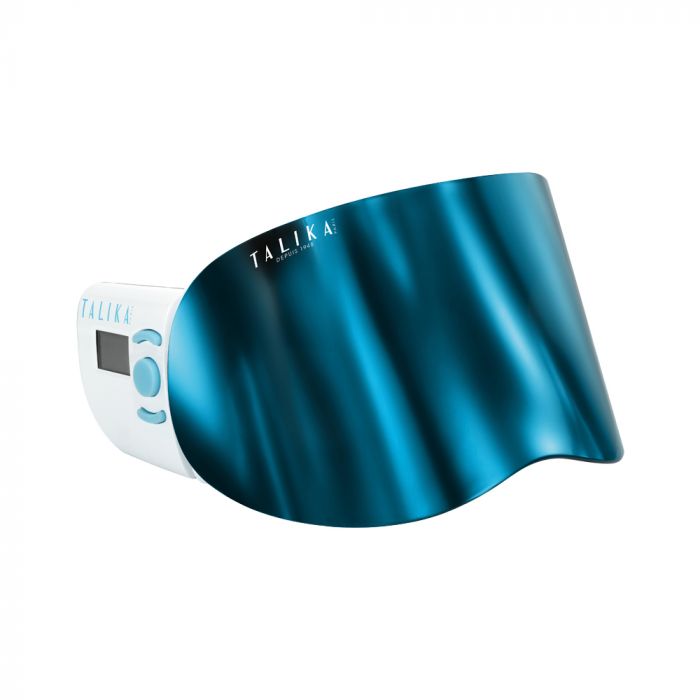 Talika brings together all the benefits of patented Swiss micro current stimulations technologies combined to its famous Light Therapy, in an easy to wear face device.
DESCRIPTION
1. Electro-stimulation Technology:
Talika uses cutting edge TENS technologies (formerly mostly used in medical applications) to send message to muscles through the nerves, in a way that closely mimics how our brain sends orders to the muscles of our body.
This minimises discomfort and ensure optimum efficiency, safely.
The messages sent to muscle are a complex set of instructions allowing the muscle to work in a natural fashion. It can order the muscle to relax, contract, increase its internal oxygenation, etc.
7 electrostimulation functions are used either by alone or in combination:
- Firming microcurrent: smoothes 1st wrinkles and firms the skin.
- "Lifting" microcurrent: reduces lines and wrinkles, firms the skin.
- Tonifying millicurrent: "oxygenates" the skin and improves skin tonicity.
- "Radiance boost" microcurrent: stimulates local microcirculation, creates a rosier skin tone.
- Calming millicurrent: stimulates the secretion of endorphins, naturally soothing and relaxing molecules.
- Ionophoresis: enhances the penetration and effectiveness of cosmetic treatments.
- Reverse ionophoresis: helps to "detoxify" the epidermis and counter pollution.
2. Light Therapy Technology:
Talika famous Light technology based on NASA research on the potential of light energy.
Talika and numerous studies have proved the potential of certain light wavelength (seen by humans as light colours) to help treat the skin such as:
- Orange light proven ability to help boost the production of Collagen, helping restructure the skin and improve its appearance;
- Green light proven ability to regulate the production of melanin, helping fight dark spot and improving the brightness of the skin;
- Red light ability to fight redness and some skin inflammations and help accelerate skin repair.